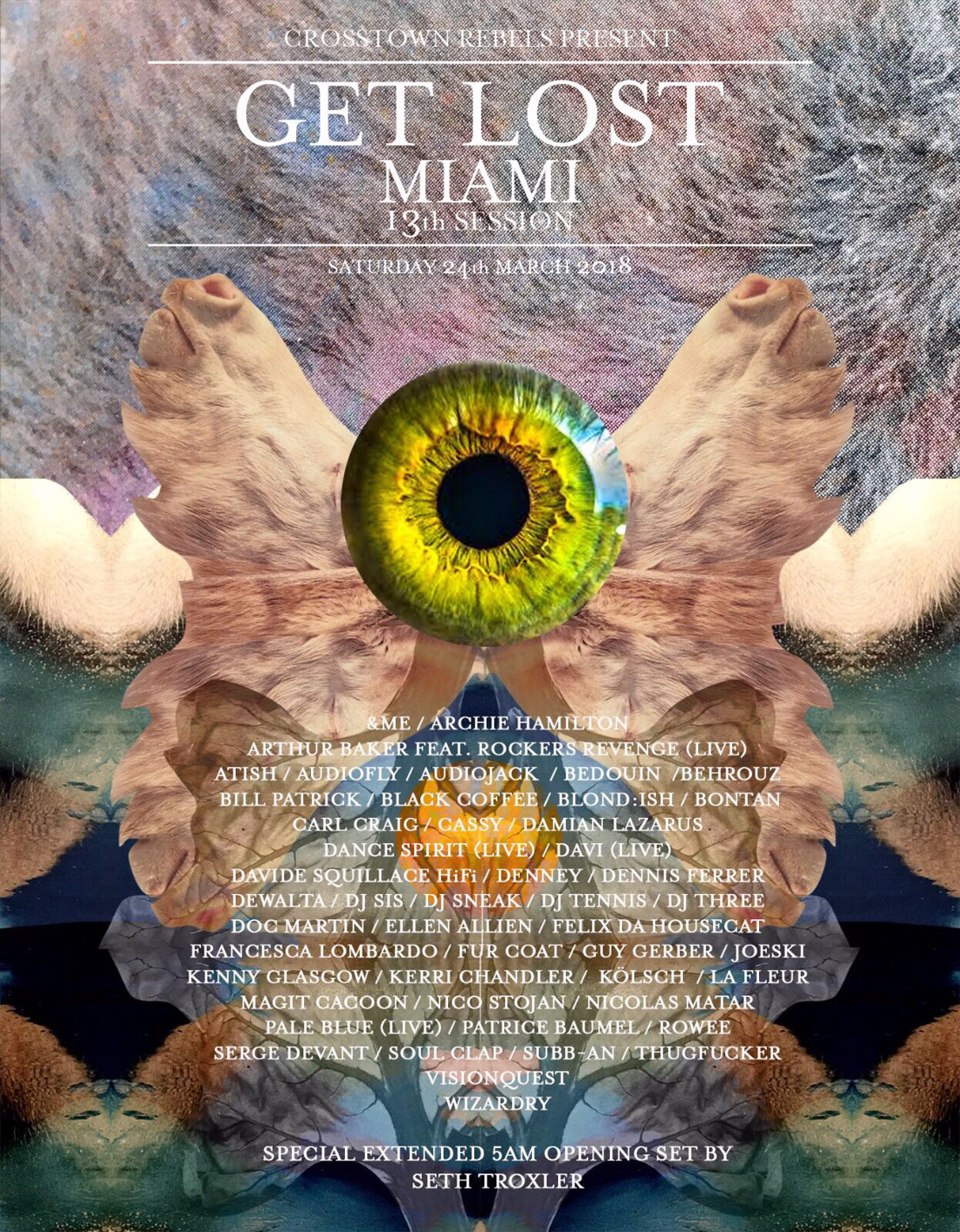 Get Lost Reveals 40 + Act Line-up for Thirteenth Edition
Tuesday, January 30, 2018 — March 24, 2018 - New Location Offers Three All-Night Dancefloors, Art Installations, and Secret Spaces
Includes Damian Lazarus, Black Coffee, Carl Craig, Ellen Allien, Soul Clap, Kerri Chandler, Felix da Housecat, Guy Gerber, Kölsch and many more!
Buy Tickets to Get Lost Miami 2018: https://www.residentadvisor.net/events/1060342
Sonic wizard Damian Lazarus knows how to pull off a trick or two, and one of his greatest is the creation of Get Lost's line-up. As its enters its teenage years, Lazarus has again assembled a who's who of the underground, bringing together over 40 artists, to perform in the other worldly environs of his Get Lost Miami mecca.
Of course there are line upon lines of highlights in this assemblage of talent, but Arthur Baker's return to performing live with Rockers Revenge surely stands out, as does the extended 5am opening set by Seth Troxler, a return to the heady intimate after-hours vibe upon which Get Lost was founded. Given the unique anything goes vibe Get Lost creates, performances by Detroit icon Carl Craig and South African star Black Coffee are also surely can't miss sets, alongside with the extended closing from the trio Wizardry (DJ Three, Damian Lazarus and DJ Tennis).
There will be unique live performances from Davi, Dance Spirit and Pale Blue, while faves like Bpitch Control's Ellen Allien, Soul Clap, Kerri Chandler, Felix da Housecat, Guy Gerber and Kolsch will all perform. No Get Lost would be complete without Lazarus' own turn behind the decks. At Get Lost he's created an environment in which he feels uniquely comfortable to push the envelope, taking a dancefloor down the rabbit hole with a grin and a smile befitting that of the mad hatter.
This year's Get Lost will deliver three distinct dance-floor environments plus special art installations, performances, and secret spaces for those keen to wander. The result will be a unique experience, that promises to deliver some memorable sunrise moments, and singularly pleasurable late-night dancing beneath the moon and stars. The theme for 2018 is Lost Mythical cities, realms dear and familiar to Lazarus, and a fitting context for the sonic adventurers and pilgrims drawn to explore the world of Get Lost.
Buy Tickets to Get Lost Miami 2018: https://www.residentadvisor.net/events/1060342
Line-up Alphabetized
&ME
Archie Hamilton
Arthur Baker feat. Rockers Revenge (Live)
Atish
Audiofly
Audiojack
Bedouin
Behrouz
Bill Patrick
Black Coffee
Blond:ish
Bontan
Carl Craig
Cassy
Damian Lazarus
Dance Spirit (Live)
Davi (Live)
Davide Squillace HiFi
Denney
Dennis Ferrer
Dewalta
DJ Sis
DJ Sneak
DJ Tennis
DJ Three
Doc Martin
Ellen Allien
Felix Da Housecat
Francesca Lombardo
Fur Coat
Guy Gerber
Joeski
Kenny Glasgow
Kerri Chandler
Kölsch
La Fleur
Magit Cacoon
Nico Stojan
Nicolas Matar
Pale Blue (Live)
Patrice Baumel
Rowee
Serge Devant
Soul Clap
Subb-an
Thugfucker
Vision Quest
Wizardy
Special Extended 5 AM Opening Set by Seth Troxler